The guide below details the key features and differences between our two main veranda patio cover products: Veranda Original and Veranda Plus. 
This post is written to help you figure out what type of veranda would your needs best and to make your decision easier! If you have further queries you can contact us here.
Roofing
Deciding what roof type to choose for your veranda is the first important step, which is why we have described below in detail the different options you can choose for the polycarbonate roof.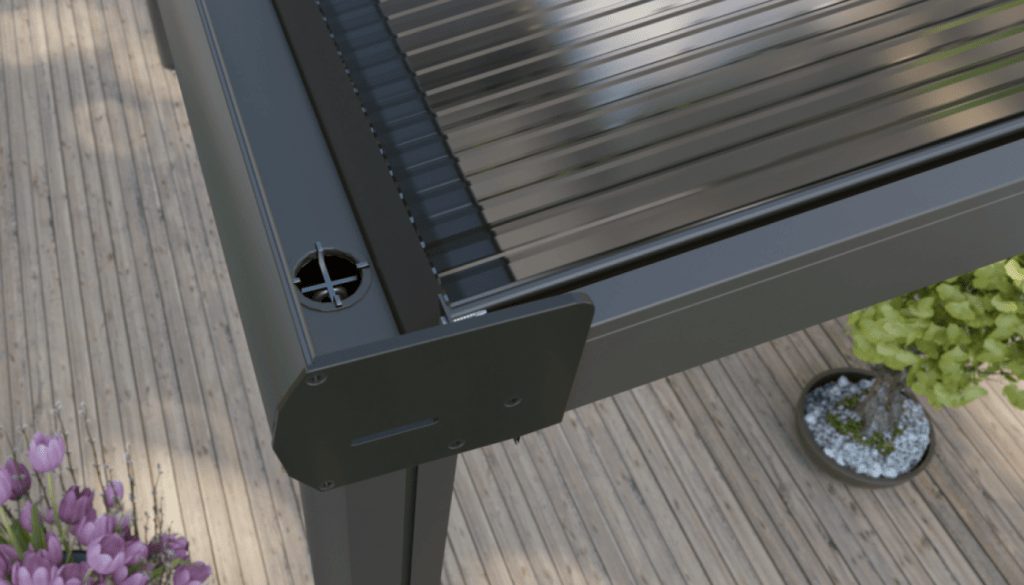 Polycarbonate Roof Sheets
First of all, what is polycarbonate? Polycarbonate is an extremely tough type of thermoplastic that is virtually unbreakable, which is why it works very well as a roof covering. The chances of polycarbonate sheets being damaged from impact are very slim. This durability is why we offer a 10 year guarantee on all polycarbonate sheeting.
Polycarbonate roofing sheets are very lightweight which makes them easy to install. For example, 10mm polycarbonate weighs roughly 4.5kg per square meter.
Our Veranda Original product has 10mm clear polycarbonate roof sheets, while our Veranda Plus product has 16mm opal or clear polycarbonate roof sheets. Both types of polycarbonate are multiwall, meaning they are made up of multiple layers which offer excellent acoustic and thermal insulation.
A key reason why polycarbonate is a popular roof option is because of its resistance to temperatures, both low and high. Clear polycarbonate lets in slightly more heat and light than Opal, but both regulate temperatures well, keeping the heat in during the winter, and making the space cooler in summer. Further differences between the two polycarbonate types are shown below: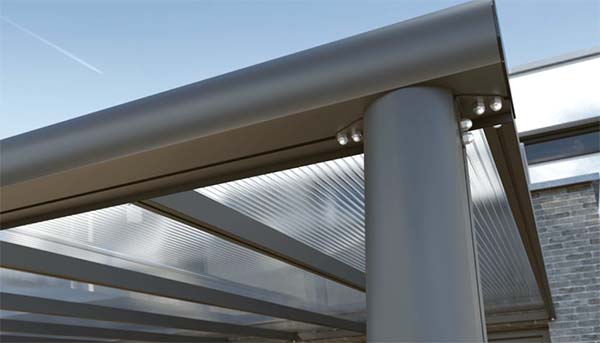 Enable optimum light transmission and visibility. 
Allows more heat in.
Good choice for darker, colder, north-facing areas.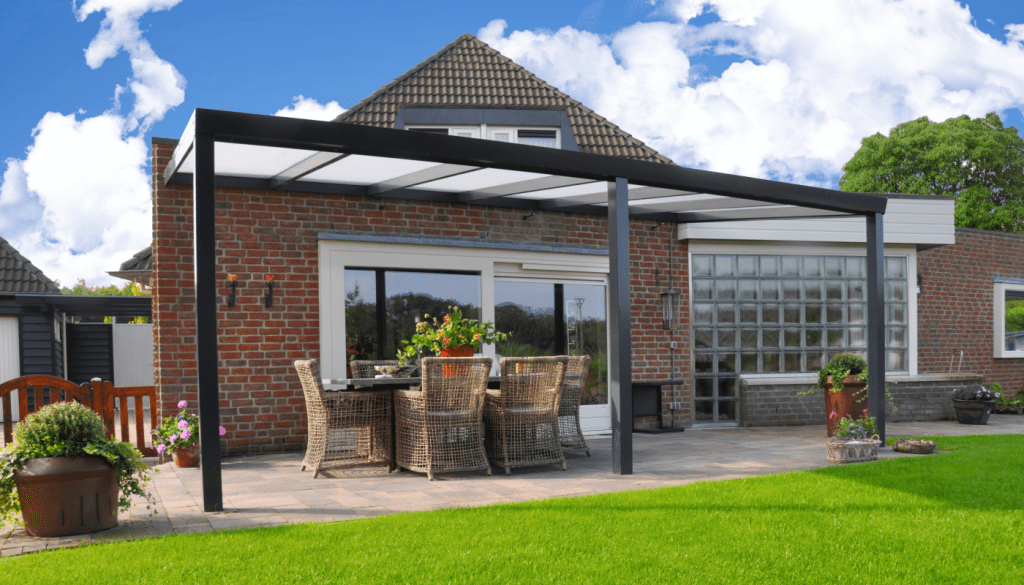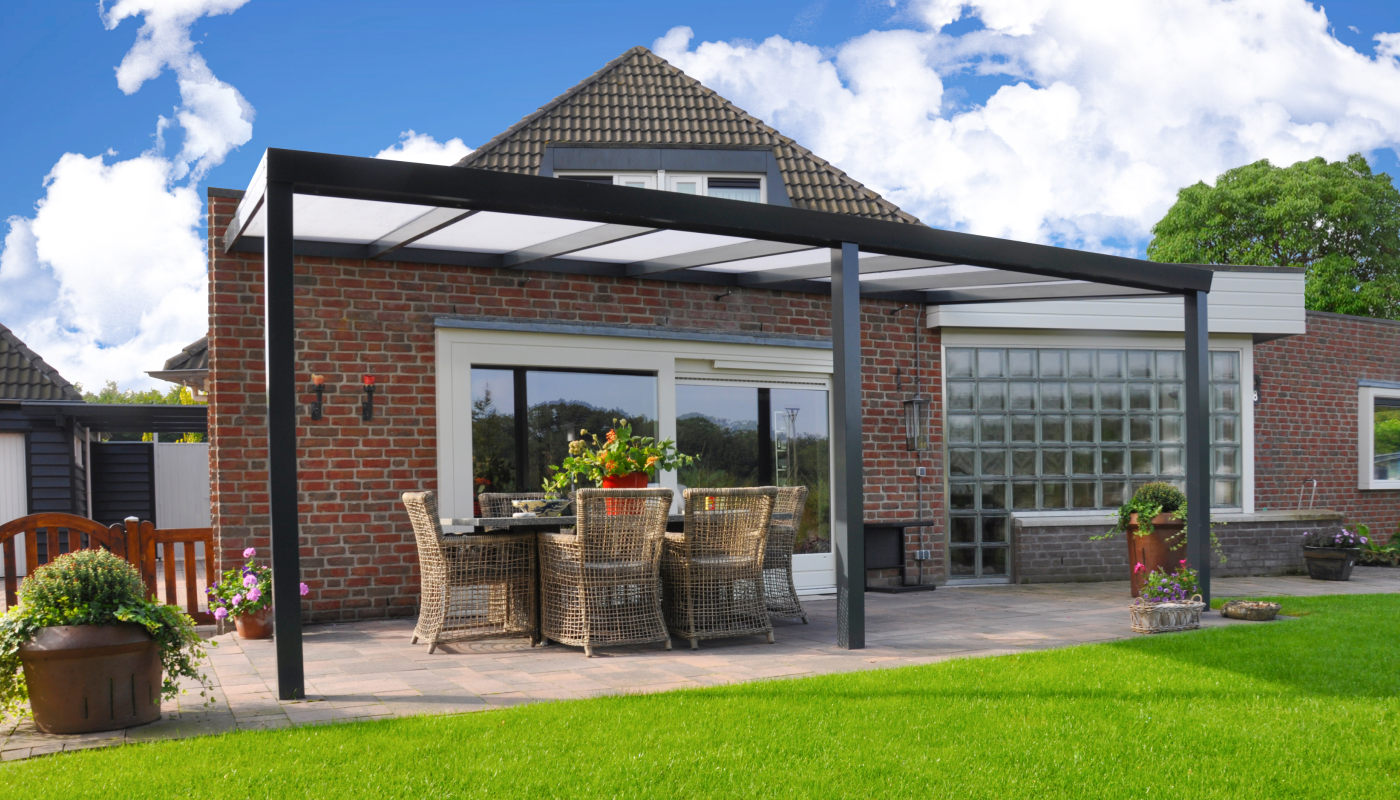 Allows softer light through.
Reduce heat build-up.
Tinted appearance provides a good level of privacy.
Now that you hopefully understand the differences between the various types of roofs available, found below is a summary of the options for our two veranda ranges:
| | |
| --- | --- |
| Veranda Original | Veranda Plus |
| 10mm Clear Polycarbonate | 16mm Clear Polycarbonate |
| | 16mm Opal Polycarbonate |
Design & Structure
1. Aluminium
The posts and rafters for all our verandas are made of aluminium. Aluminium is a very durable metal, which is why we offer a 10 year guarantee for the structure.  It's also lightweight, 100% recyclable, and resistant to corrosion in most environments.
One of the key benefits that make this material perfect for verandas is the low maintenance required to keep the frame looking good as new. We recommend a quick clean once a year using a soft sponge and pH-neutral detergent mixed with clean water.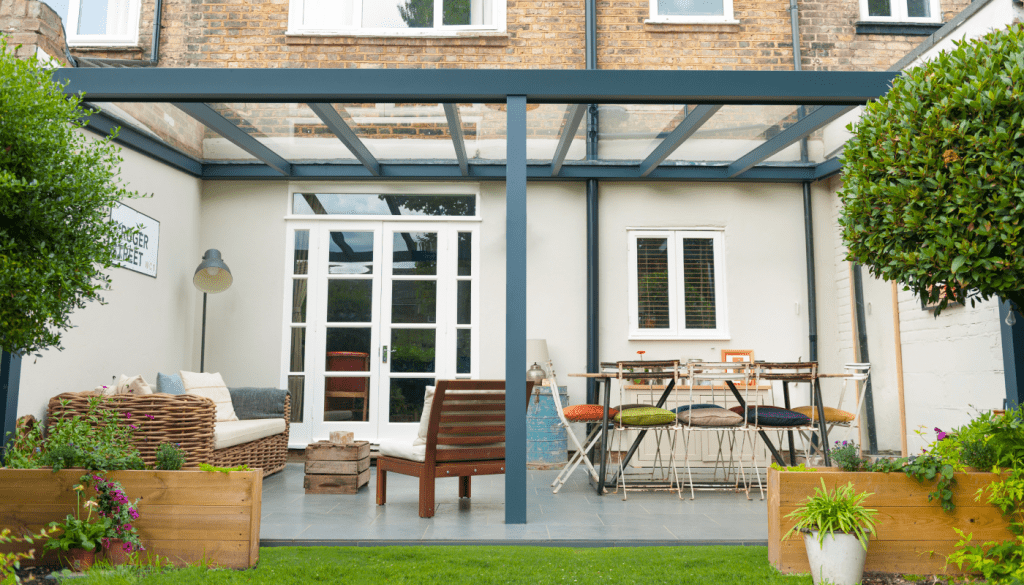 2. Wall-Mounted Design (Also called Lean-To)
All our verandas are designed to be installed attached to a wall. This is the most popular design and is the most cost-effective compared to stand-alone verandas.
As the structure is attached to your home, it is not exposed to weather on at least one side, ensuring additional weather protection compared to other structures.
Wall-mounted verandas also have the strongest structure due to the combination of mounted front posts and installation of the roof to the house (our Veranda Plus for example can withstand winds of up to 90km/h).
3. Uprights Posts
The number of upright posts for both veranda products depends on the width selected. On the product pages you will see when you select a width that the number of posts will show in brackets. The number of uprights for each product is shown below:
Veranda Original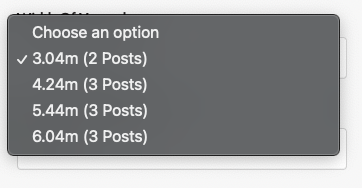 Veranda Plus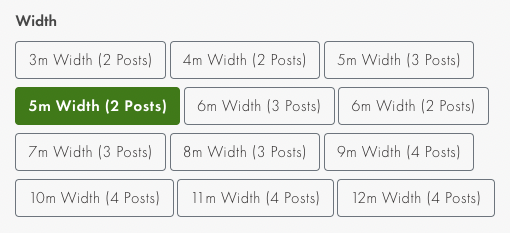 Both veranda ranges are always prepared for downpours, containing an integrated gutter system for effective rainwater drainage at the front of the posts.
Regarding the dimensions of the uprights for the two ranges, please see comparison below:
| | | |
| --- | --- | --- |
|   | Veranda Original | Veranda Plus |
| Posts Dimensions | 110mm x 95mm | 110mm x 110mm |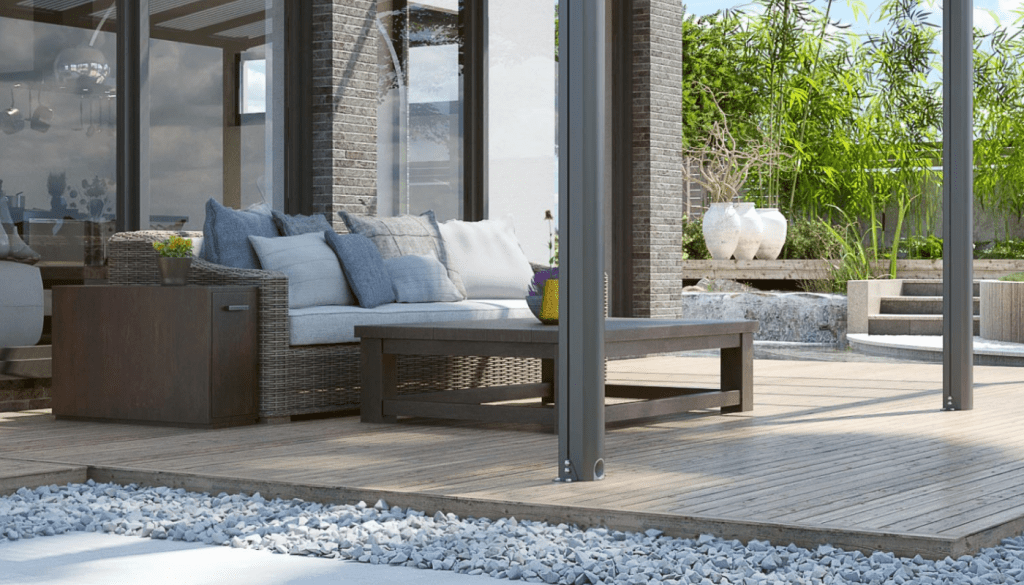 4. Heights
The Veranda Original front height is 2.1m and the ridge height is 2.40m for 2.50m depths and 2.51m for 3.00m depths.
The Veranda Plus front columns come as 2.40m. This is the maximum walk-through height you can have assuming the post is installed flush with the ground. The veranda roof then slants up by 14cm for every 1m depth. You can then cut the posts to suit the height needed to attach to the wall. The usual height of walk-through is 2.10m with 0.30m being extra, either set in the ground or trimmed as needed.
5. Wind & Snow Loads
Wind and slow load bearings reflect the strength and resistance of our verandas to adverse weather conditions. Our Veranda Plus performs better in this regard, but both products are strong and if fitted correctly will last for years to come.
The Veranda Original has not yet been tested for wind load but is still strong enough for most areas except those that are completely open and prone to constant poor conditions.
| | | |
| --- | --- | --- |
|   | Veranda Original | Veranda Plus |
| Wind Load | N/A | 25 m/s or 90 km/h |
| Snow Load | 65 kg/m² | 135 kg/m² |
6. Sizes
The full list of available sizes for our two ranges can be found below. Please note that custom sizes are not possible for our verandas. Measurements below are width (along wall) x depth (projection away from wall).
Veranda Original
Depths: 2.5m, 3m
Widths: 3.04m, 4.24m, 5.44m, 6.04m
Veranda Plus
Depths: 2m, 2.5m, 3m, 3.5m, 4m, 4.5m, 5m
Widths: 3m, 4m, 5m, 6m, 7m, 8m, 9m, 10m, 11m, 12m
Colour
All colours for our verandas are high-quality powder coatings on aluminium, not just simple paint jobs. This is to ensure longevity and to minimise the chance of fading. 
Our Veranda Original comes in one default colour as standard: Anthracite Structured RAL 7016.
Our Veranda Plus offers four choices in colour: Anthracite Structured RAL 7016, Grey Structured RAL 9007, Traffic White RAL 9016, Black Structured RAL 9005. This is no extra cost for choosing one particular colour over another. Colour options for this veranda are shown visually below: