Veranda Plus is our premium patio cover for customers looking for a high-quality product to last for many years. With its thick and durable roof along with its slim low-maintenance posts, you can look forward to enjoying your garden sheltered from the weather with this elegant veranda.
Enjoy the outdoor season for longer with our strong prefabricated patio cover veranda. This premium veranda is manufactured in Germany to the highest standards, so you are assured of quality and its why we offer all our customers a 10-year warranty.
The upright posts are sleek and strong 110mm x 110mm low-maintenance, durable aluminium and is built to last all seasons. You can screw the uprights directly to the floor thanks to the supplied U-plate foundations. These are lightweight surface mounted metal anchors that can be bolted or screwed to concrete, slabs or timber platform. 
The Veranda Plus is fitted with two roof options – a sheet of thick 16mm opal polycarbonate (milky white yet sun permeable, giving you a soft, even light on the patio) or transparent clear polycarbonate for light and sun protection, or 8mm laminated glass for a more luxurious option with maximum light.
This is a strong structure and has been tested for snow load of 135 kg/m² and wind load of  25 m/s. 
The Veranda Plus has an integrated rainwater drainage system whereby rainwater is drained off through the front of the uprights. The gutter is 100mm high and are very stable, with 3mm thick aluminum.
*Please note that the customer must provide a forklift or manpower to unload this product.
| Frame: | Aluminium |
| --- | --- |
| Colour: | RAL 9016 white | RAL 9005 black structured | RAL 7016 anthracite structured | RAL 9007 grey structured |
| Roofing: | 16mm Opal or Clear Polycarbonate, OR 8mm Glass |
| Snow Load: | 135 kg/m² |
| Posts: | 110mm x 110mm |
| Rafters: | 55mm x 95mm |
| Wind Load: | 25 m/s |
| Certificate: | EN 1090-3, EN 1090-1:2009+A1:2012-022 |
| Weight: | 420kg - 650kg |
| Origin: | All materials are 100% sourced from and manufactured in Germany |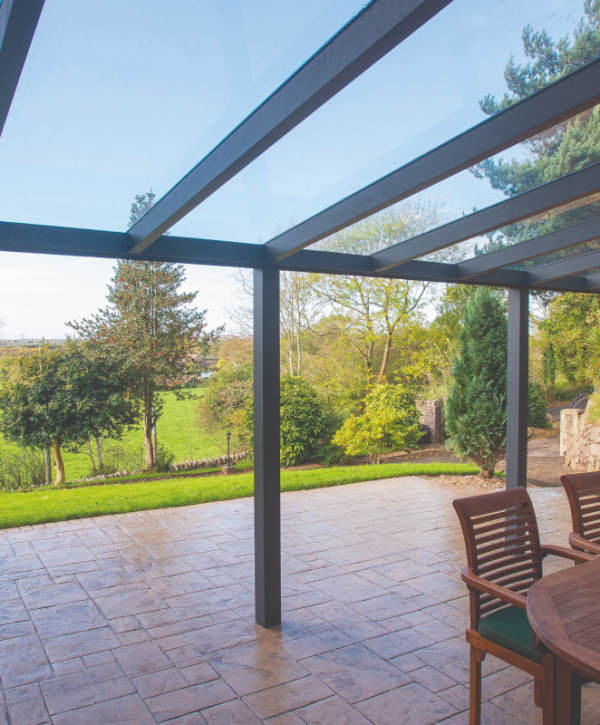 1. 8mm thick glass roof option for maximum light.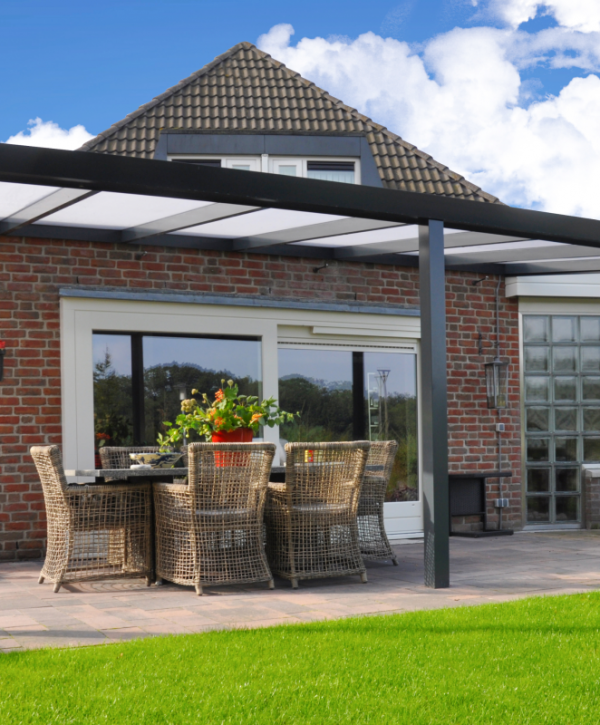 2. 16mm opal polycarbonate second roof option (milky white yet sun permeable).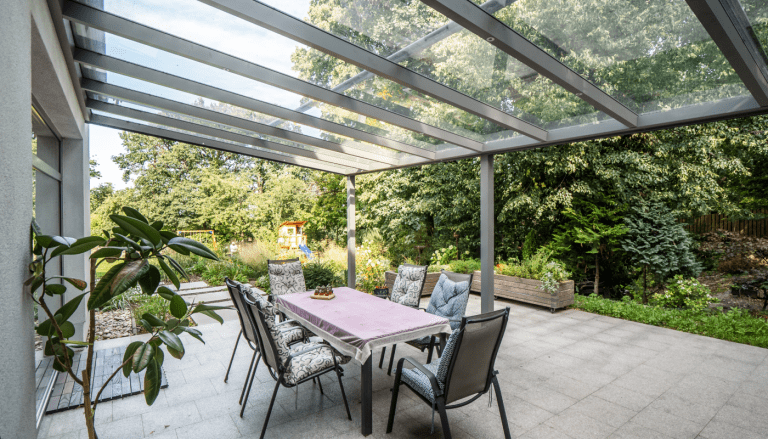 3. Powder-coated frame with four colour options for a modern look: RAL 9016 white, RAL 9005 black structured, RAL 7016 anthracite structured, RAL 9007 grey structure.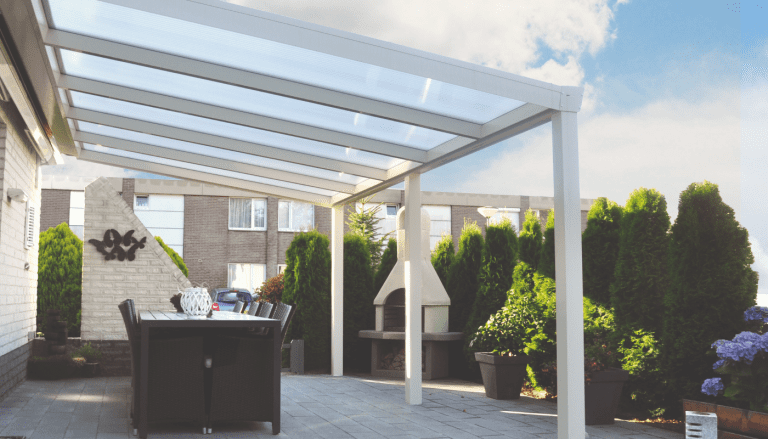 4. Most of the veranda sizes have three upright posts – one each corner and an intermediate post.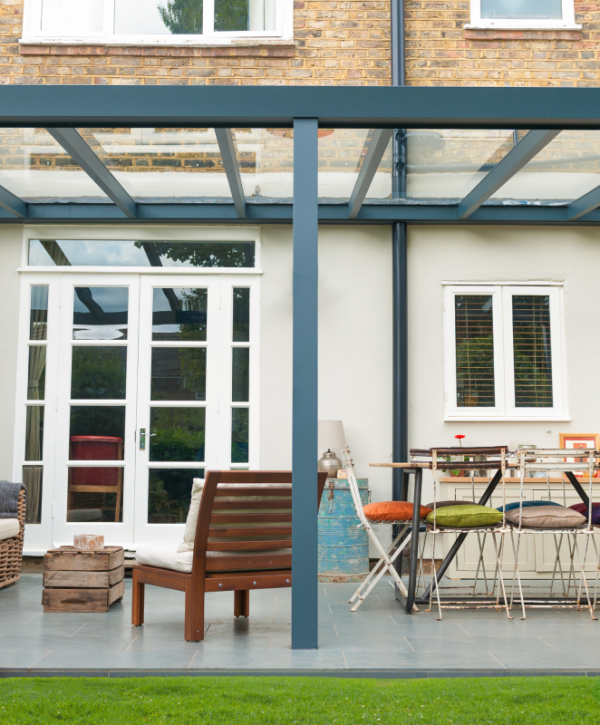 5. Built-in gutter at the front with a smooth and sleek face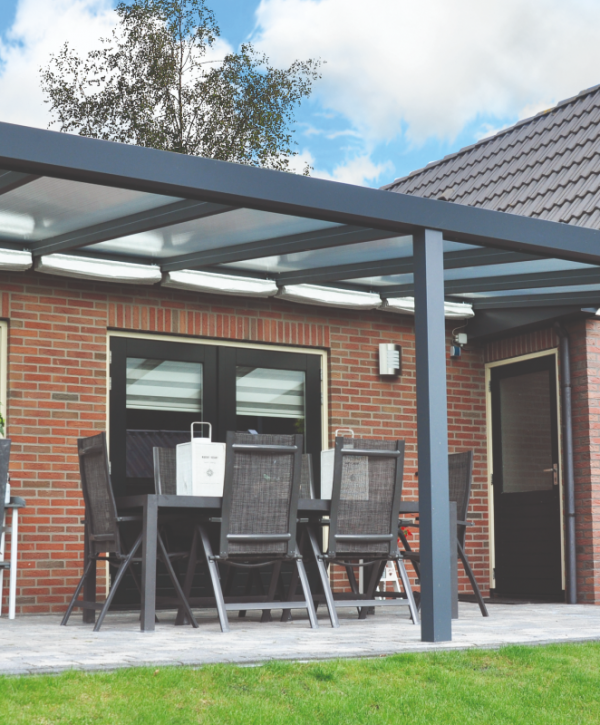 6. Durable, maintenance-free aluminium frame with strong 110m x 110mm posts.
Please note with the video below that it is an older version of the installation process. The beams have since been changed along with the mounting system. Some parts of the assembly process are still the same however, in particular the preparation of beams and the foundation.
Installation
This is a self-assembly product and our prices are for supply only. If you cannot install the product yourself or are not a very experienced DIY person, we recommend that you hire professionals to assemble.
If you do not have contacts for a fitter, you can follow the steps below to get a quote for a local tradesman to help install your structure.
1. Links to get a quote for fitting:
2. Type of tradesman required:
3. Description of the job:
Feel free to link to this page.
Estimated job length: 1-2 days.
10mm Clear Polycarbonate Roof
Upright Posts: 110mm x 95mm
Snow Load: 65 kg/m²
Wind Load: N/A
Weight: 60kg - 100kg
Colour: One Option
16mm Opal or Clear Polycarbonate Roof
Upright Posts: 110mm x 110mm
Snow Load: 135 kg/m²
Wind Load: 25 m/s
Weight: 420kg - 650kg
Colour: Four Options
Depths
2.00m
2.50m
3.00m
3.50m
4.00m
Heights
The Veranda Plus front columns come as 2.40m. This is the maximum walk-through height you can have assuming the post is installed flush with the ground.
The veranda roof then slants up by 14cm for every 1m depth. You can then cut the posts to suit the height needed to attach to the wall.
The usual height of walk-through is 2.10m with 0.30m being extra, either set in the ground or trimmed as needed.
Width
3.00m – 2 posts
4.00m – 2 posts for polycarbonate roof, 3 for glass roof
5.00m – 3 posts
6.00m – 3 posts
7.00m – 3 posts for polycarbonate roof, 4 for glass roof
16mm Clear Polycarbonate
Light transmission – 70% clear
Lightweight and easy to install
More visibility than opal, less visible than glass
Low maintenance
Cheaper than glass
Sound of rain is more evident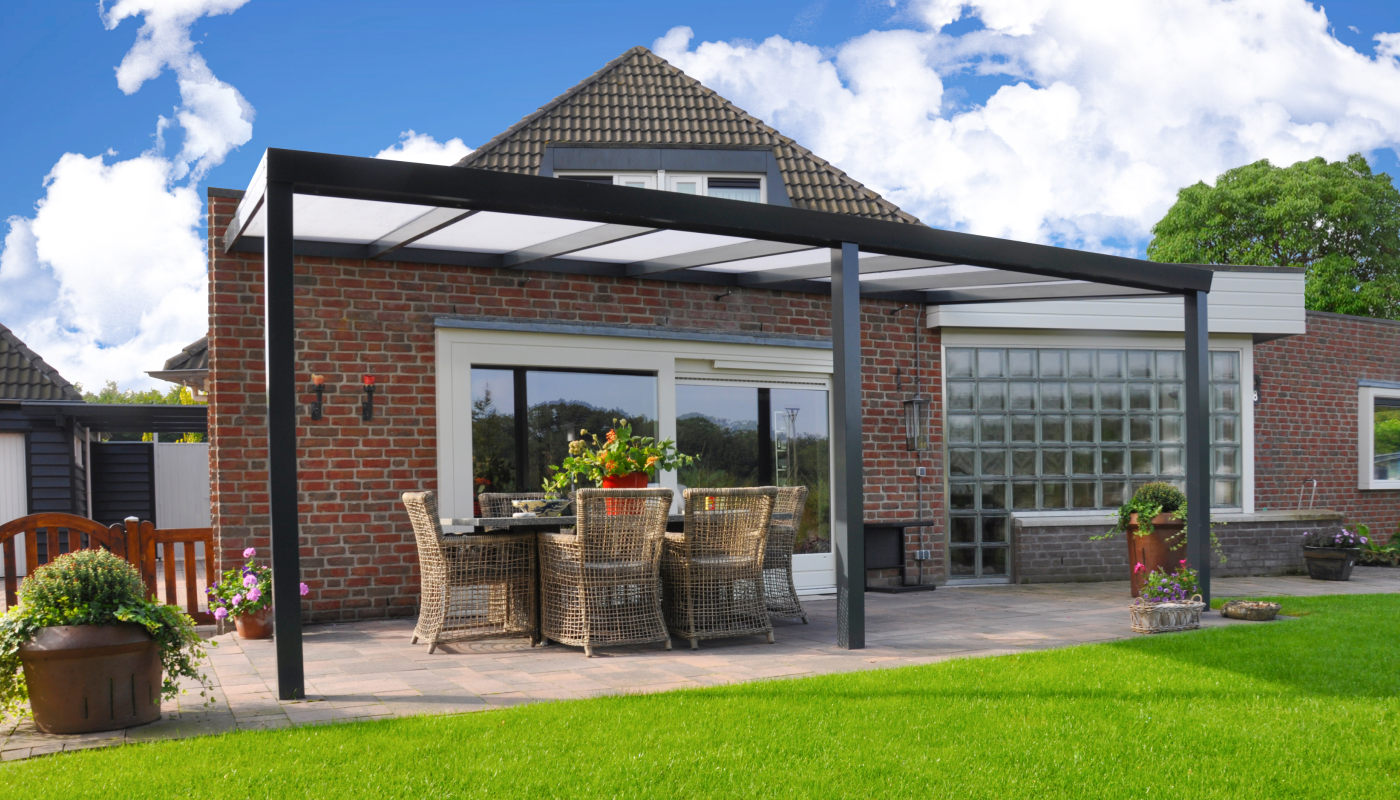 16mm Opal Polycarbonate
Light transmission – 50%
Lightweight and easy to install
Less visibility than opal and glass
Low maintenance
Cheaper than glass
Sound of rain is more evident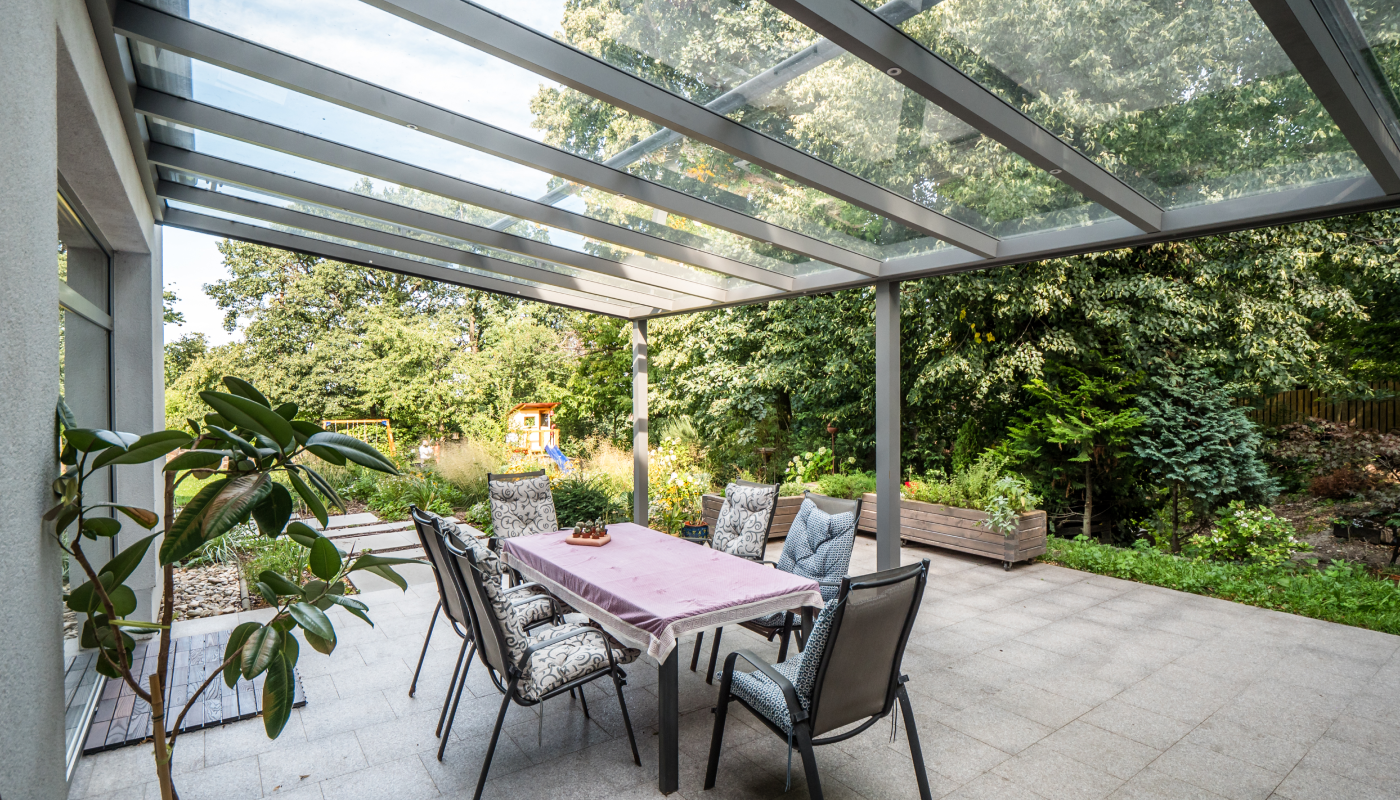 8mm Laminated Glass
Light transmission – 100%
Heavier and must be handled with great care
Completely clear view for stargazing
Requires more regular cleaning
More expensive than polycarbonate
Good acoustic qualities – less noise when raining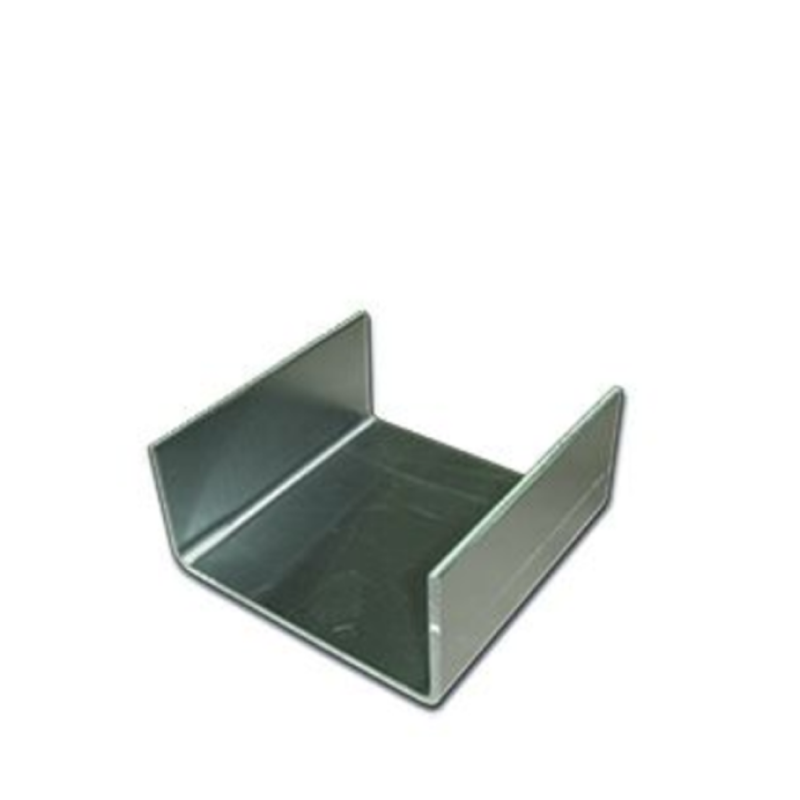 1. U Plate Bracket 
Dimensions: 102 x 102 x 50mm.
This is a post anchor bracket designed to allow the verandas vertical posts to be fastened on top of decking, concrete, slabs, and other similar foundations.
These are lightweight and easy to use and perfect for when you don't need to dig into an existing base.
Screws will be supplied with the main veranda kit for the post fixings.
Specialist screws will need sourcing depending on the surface of your base.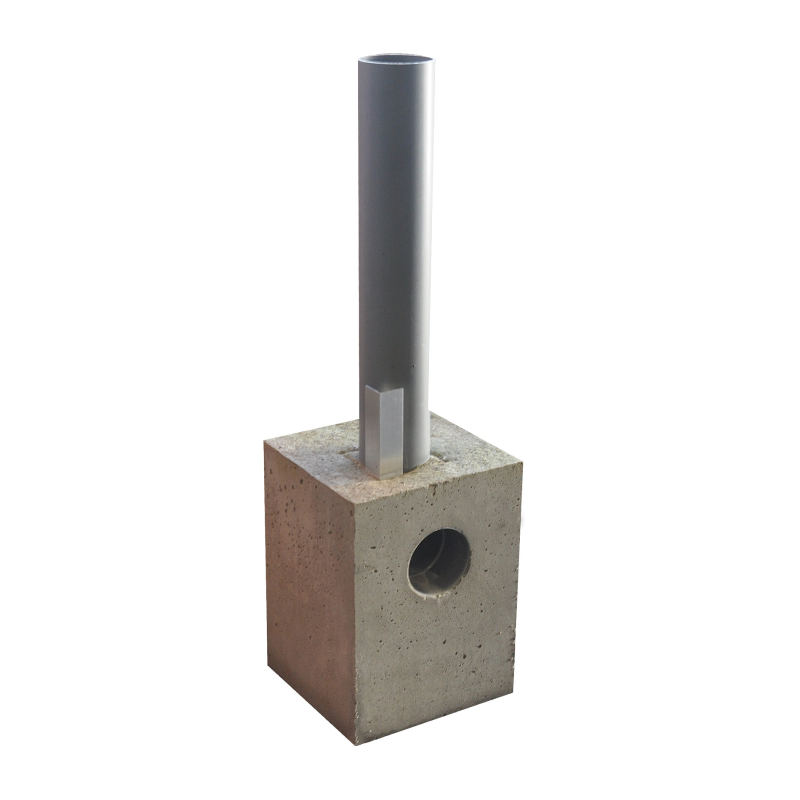 2A. Concrete Foundation With Drainage
Dimensions: 220 x 220 x 300mm. Also includes 2500mm Drainage Pipe & 90 Degree Bend Piece.
This is a concrete foundation that has drainage outlets already installed within the structure, used where a footing is required below ground. This is a concrete pack that will come with concrete footings without drainage (2B).
The concealed downpipe in the veranda's upright post simply connects to the pipe in this concrete foundation base. You can then connect your drainage to the foundation. This will allow rainwater from the veranda gutter to drain from inside the upright post and exit through the foundation into a pipe connected to your existing surface water system.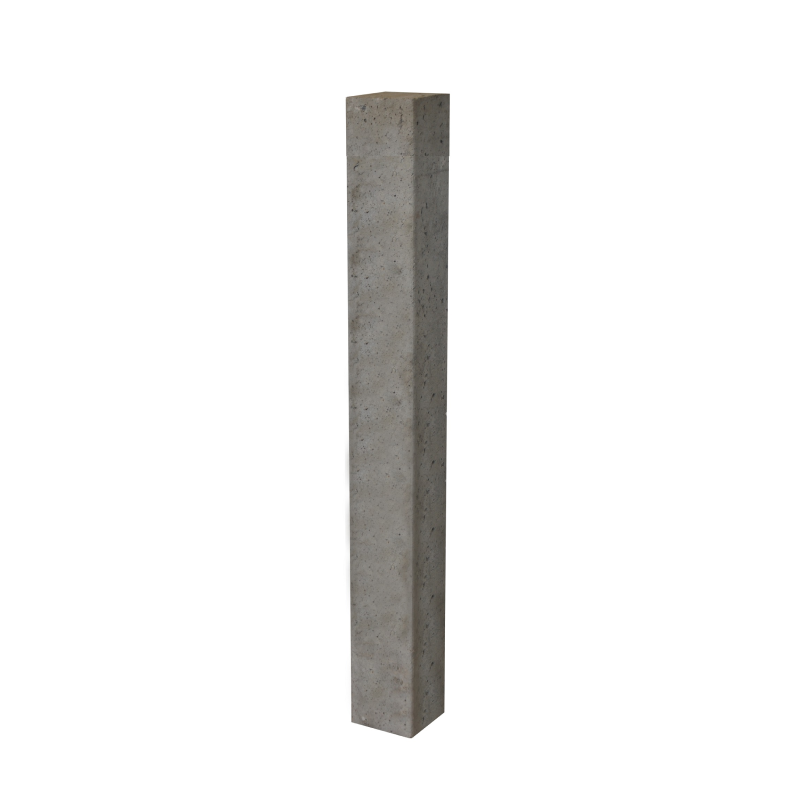 2B. Concrete Foundation Without Drainage
Dimensions: 100 x 100 x 930mm
This is a concrete foundation without drainage used where a footing is required below ground. If you select the concrete foundation option for this product, you will get a concrete foundation with drainage (2A) along with 1 or 2 concrete of this footing, depending on your veranda size and the number of uprights.
The concrete foundation slides inside the verandas aluminium post which is then inserted into a hole in the ground at a suitable depth.
Once the veranda is levelled and squared you can secure the foundation by pouring postcrete into the hole, adding water, and allowing it to set.
Angela Antoniou
2022-07-21
The Veranda Original is the perfect size for a smaller garden like ours. Easy to assemble with the right tools and the result looks great. It has transformed our garden to a more inviting and usable space. It was easy to coordinate with Conor and the team keeping us in the loop with delivery times and being prompt in their responses.
Having purchased this diy flat pack veranda from veranda.ie all correspondence from time of order to actual delivery was spot on. If for any reason I needed information on actual install it would arrive in email almost immediately. So from my experience I would highly recommend this company. Keep up the good work
Aoife Reynolds
2022-04-26
Found the company very easy to deal with. They responded very fast to any queries that I had. Product arrived early too 😊
Arrived on schedule in good condition
The Product comes as a flat pack but very easy to install for a tradesman. A very modern design aswell so a great addition to the house. Would definitely recommend this company again.
I got the veranda plus and couldn't be happier with it. The quality and strength of the veranda once erected is excellent. We have external insulation on the house so I was a little concerned but there was no issues at all fixing it to the house with the concrete screws that were recommended by Conor. All my questions were answered prior and post purchase and I would definitely recommend Veranda.ie to anyone.
Martina Neylon
2021-10-06
We were delighted with the service from start to finish and the end result was as promised. It was relatively easy to install.
Very happy with my purchase and easily installed!