Veranda Original is our signature low-maintenance patio cover. An elegant and durable structure, you can now enjoy your garden all year round protected from poor weather and harmful UV rays. Its the perfect solution for outdoor dining areas, door entrances, and furniture & product shelter.
Enjoy the outdoor season for longer with our strong prefabricated patio cover veranda. This premium veranda is manufactured in Germany to the highest standards, so you are assured of quality and its why we offer all our customers a 10-year warranty.
The upright posts are made of durable aluminium and are built to last all seasons. You can screw the uprights directly to the floor, thanks to the ready-to-use floor mounting. All veranda size variations have three uprights: 2 corner posts and 1 intermediate post. The exception to this is veranda widths of 3.04m which only have two uprights.
The Veranda Original is fitted with a transparent sheet of clear thick 10mm polycarbonate which are very resistant to damage. This type of clear roof panel is especially suitable for shady places, as it allows in more sunlight than an opal (white) polycarbonate roof.
Our polycarbonate sheets are also co-extruded with an UV inhibiting layer for longer life. The high performance UV layer offers protection from some of the sun's rays. It also protects the sheet against loss of strength and yellowing. 10mm polycarbonate sheets are much lighter weight than glass. This makes them easier to handle and install.
The Veranda Original has an integrated rainwater drainage system, whereby rainwater is drained off through the front of the uprights with the addition of rounded gutters.
| Frame: | Aluminium |
| --- | --- |
| Colour: | Anthracite Powder Coating (RAL 7016) |
| Roofing: | 10mm Clear Polycarbonate |
| Snow Load: | 65 kg/m² |
| Posts: | 110mm x 95mm. 3m width verandas come with 2 upright posts. All other widths come with 3 upright posts. |
| Certificate: | EN 1090-3, EN 1090-1:2009+A1:2012-02 |
| Weight: | 60kg - 100kg |
| Origin: | All materials are 100% sourced from and manufactured in Germany |
1. 10mm clear, transparent polycarbonate roof sheets that guarantees optimal light.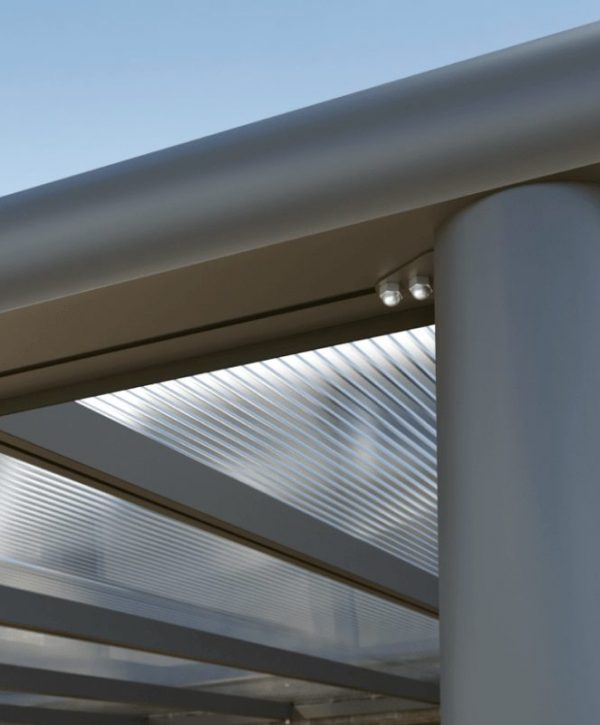 2. Anthracite grey powder-coated frame colour (RAL 7016) for a modern look.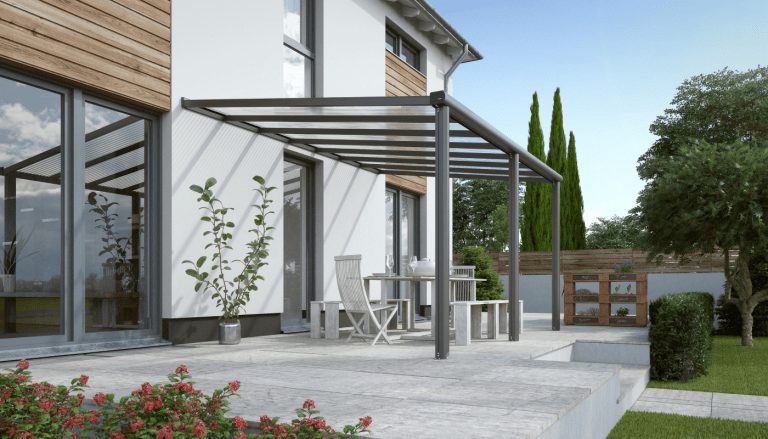 3. Floor mounting system included to fasten the veranda directly to the foundation.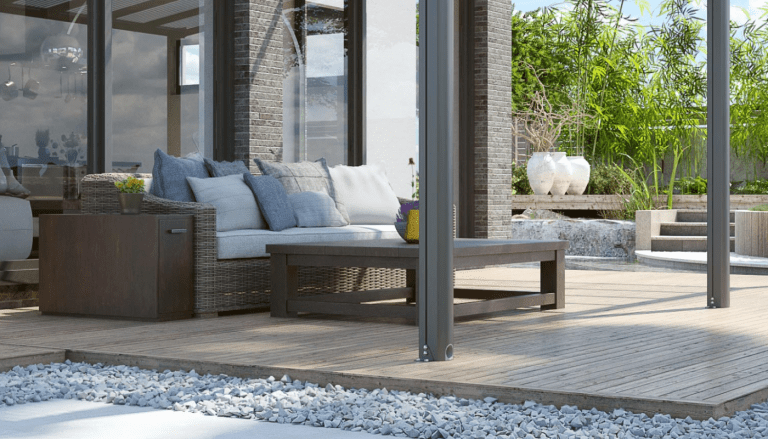 4. Most of the veranda sizes have three upright posts – one each corner and an intermediate post. Verandas with a width of 3.04m have only two posts.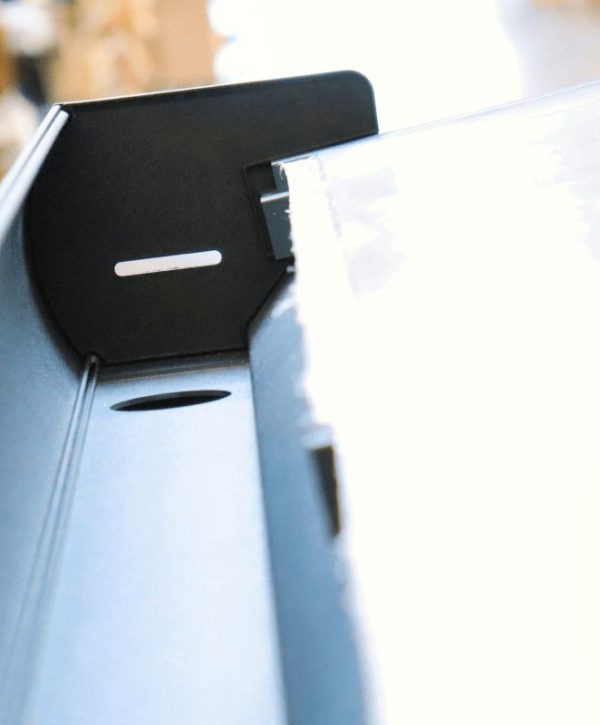 5. Rounded gutters with an integrated draining system to let rainwater out.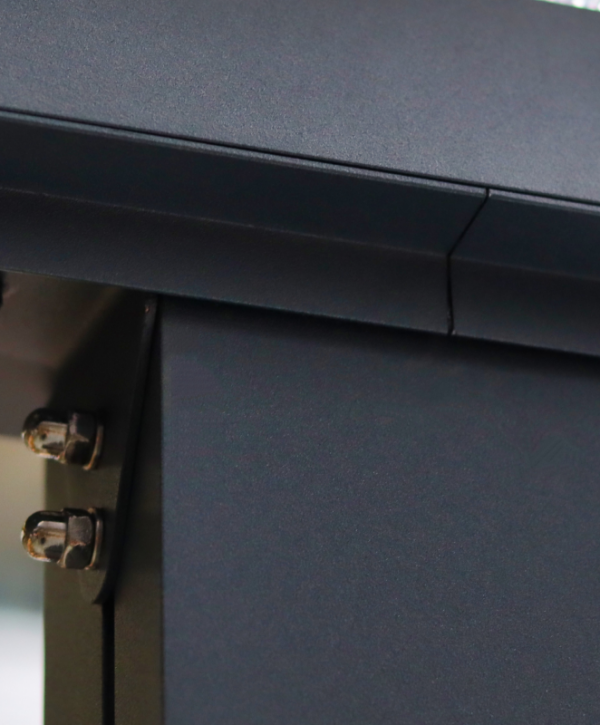 6. Durable, maintenance-free aluminium frame.
Please see the full installation video below:
Installation
This is a self-assembly product and our prices are for supply only. If you cannot install the product yourself or are not a very experienced DIY person, we recommend that you hire professionals to assemble.
If you do not have contacts for a fitter, you can follow the steps below to get a quote for a local tradesman to help install your structure.
1. Links to get a quote for fitting:
2. Type of tradesman required:
3. Description of the job:
Feel free to link to this page.
Estimated job length: 1-2 days.
10mm Clear Polycarbonate Roof
Upright Posts: 110mm x 95mm
Snow Load: 65 kg/m²
Wind Load: N/A
Weight: 60kg - 100kg
Colour: One Option
16mm Opal or Clear Polycarbonate Roof
Upright Posts: 90mm x 90mm
Snow Load: 110 kg/m²
Wind Load: 25 m/s
Weight: 350kg - 580kg
Colour: Four Options
Angela Antoniou
2022-07-21
The Veranda Original is the perfect size for a smaller garden like ours. Easy to assemble with the right tools and the result looks great. It has transformed our garden to a more inviting and usable space. It was easy to coordinate with Conor and the team keeping us in the loop with delivery times and being prompt in their responses.
Having purchased this diy flat pack veranda from veranda.ie all correspondence from time of order to actual delivery was spot on. If for any reason I needed information on actual install it would arrive in email almost immediately. So from my experience I would highly recommend this company. Keep up the good work
Aoife Reynolds
2022-04-26
Found the company very easy to deal with. They responded very fast to any queries that I had. Product arrived early too 😊
Arrived on schedule in good condition
The Product comes as a flat pack but very easy to install for a tradesman. A very modern design aswell so a great addition to the house. Would definitely recommend this company again.
I got the veranda plus and couldn't be happier with it. The quality and strength of the veranda once erected is excellent. We have external insulation on the house so I was a little concerned but there was no issues at all fixing it to the house with the concrete screws that were recommended by Conor. All my questions were answered prior and post purchase and I would definitely recommend Veranda.ie to anyone.
Martina Neylon
2021-10-06
We were delighted with the service from start to finish and the end result was as promised. It was relatively easy to install.
Very happy with my purchase and easily installed!